Ladies and gentlemen we have finally left cool and wet Fall weather and entered warm and humid Fall weather. Brisbane is about 20-25 degrees warmer than everywhere we have been hanging out for the past six weeks and all these layers and hats and mittens feel kinda useless to be hauling around now.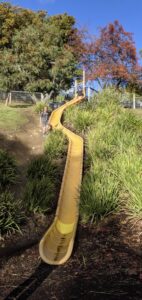 We packed up and out of one of our favorite houses so far in Hobart and stopped by a park again on our way to the airport. At first glance the gigantic slide looked like a win until Quinn, the guinea pig, flew down at lightning speed, bumped over a cracked bit of plastic and took air violently off the bottom into a big dirty puddle. There were justified tears and a clothing change and they stuck to the train playground and field after that. (Except for the other brilliant Fisher who showed up for dry clothes while I was helping Quinn; he too tried the death slide despite watching what had just happened.)
Following another easy flight we decided to immediately rent a car in Brisbane even though we were staying downtown because we had plans to drive out of the city one day, the rental cost was similar to the shuttle cost to get five people to the apartment, AND the place had a parking spot included. The karma of all our complaining about cities quickly bit us in our big old asses as getting into the next place at the end of a long day quickly turned into an Amazing Race-type task.
The building number was invisible since there was a massive amount of construction on the street and when we stopped to look at the check in instructions, it was a doozie (with no hints as to where the building actually was). While James tried to avoid angry honking on the side of the road NOT in front of the right building, I ran through one way streets to a random convenient store that apparently had the keys. WEIRD.
Once there, I had to give the guy a coded number sequence. He proceeded to look through a big plastic envelope filled with a jumble of key cards and traditional keys until he found what turned out to be two thirds of the keys I needed. After a flurry of texts and exchanged photos of keys we eventually made it far into the wrong parkade before needing to back all the way out, being chased by a car going in the correct direction (the other one). I bailed out of the car again to go and interview the construction workers about where the building might actually be and after six or eight more turns around the one way streets we were where we needed to be: eight stories underground in a parkade (about 30 right turns to get down there 🙂 ).
The apartment itself was just fine, but the check in process shall earn them a scathing review I am sure.
We really had a lovely time in Brisbane although the kids say we didn't really do anything! For James and I, "not doing anything" included a couple of sweet times because we got to visit with some other people! Twice! After swimming in the building pool one morning, James' stepsister Michelle came to hang out with us all afternoon. It was so great to visit with her, hear all about her life in and around Brisbane for the last decade plus and have her lead us to some yummy lunch on the Queen Street Mall and then for a bit of a walk through the Botanic Gardens.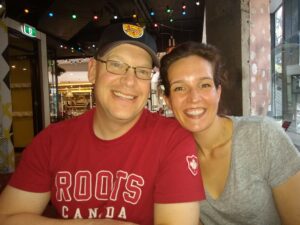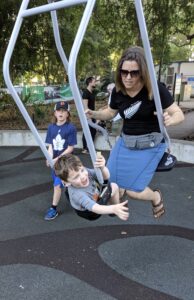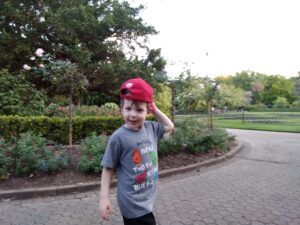 Our other day in the city, we took a free local ferry over the river to Southbank which is kind of a revitalized hotspot with plenty of restaurants, shops, and a very well done public pool, manmade beach and playground area.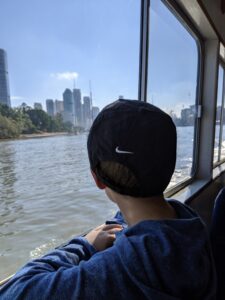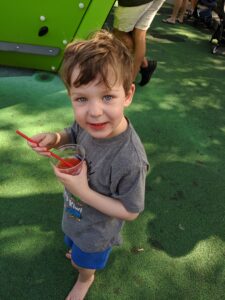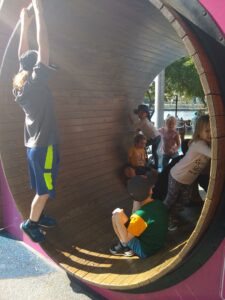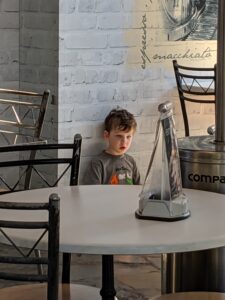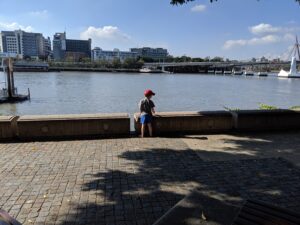 After a little break, we drove about thirty miles west out of the city to Fernvale to visit a friend
I went to high school with.
Some of us still needed to rest on the way out:
Kerry, her husband Jaco, and their two daughters live in the peaceful, beautiful, quiet on an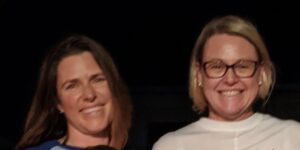 acre. Even though we haven't seen each other for over twenty-five years, they were super easy people to visit with and we had some lovely chats around the fire after dinner.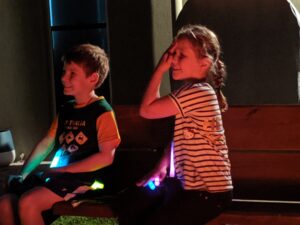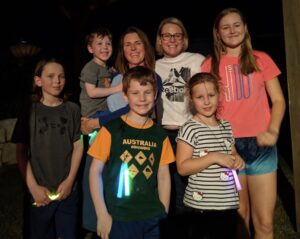 Cam was a fan of Kerry and Jaco in particular but really couldn't understand a word they were saying. He kept grinning at James or I after they spoke to him so he could get a translation.
It was a late night and so the following morning was a bit hectic as we struggled to get everything packed up in time for our 10 AM checkout time. (We needed to budget some amount of extra time to get back to the "Night Owl" to drop the keys after all…)
Now, for a short drive out to the beach for a few days!