We decided to spend the last day in Cairns at the Tjapukai Cultural Center and skip an evening campfire experience potentially similar to the Maori night; daytime sounded more interactive. It was a relatively quiet place, at least on this Monday, and spread out with areas where we could learn about the fruits they ate from the native plants, their hunting techniques and various weapons, as well as the four steps to playing the didgeridoo. The highlights for me were probably getting to paint our own boomerangs and later learning how to throw both spears AND boomerangs.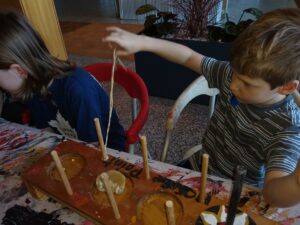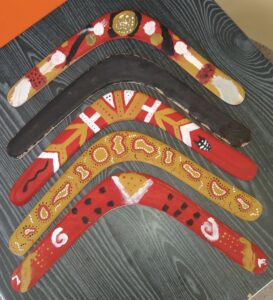 The tribal singing and dancing was certainly less aggressive than the Maori war dances – celebratory, individual (each person doing their own movements), and often included imitation of the native animals. Where the Maoris used a lot of foot stomping, this particular Aboriginal tribe used a lot of wood smacked together for percussion and aside from the didgeridoo, no other instruments. The practices, style of art, language, and stories were all specific to the Tjapukai tribe native to this rainforest area. In ancestral times Aborigines were obviously spread out all over Australia and the cultures were all quite distinct.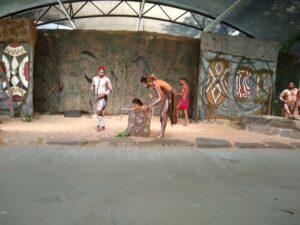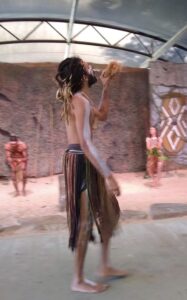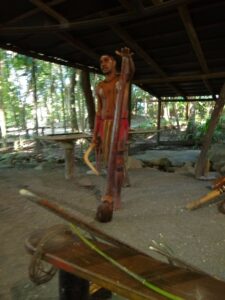 The first and most impactful thing we saw was a combination tech/ live performance explaining their story of how the world was created. We were somewhat taken aback as it started with large splashy graphics of the Dutch discovery of Australia in the 1600s and then royal images during colonial times. It came across like 1950s commercial for Australian tourism, or perhaps a cheesie history lesson. This took a suddenly dark and devastating turn as the pomp and circumstance was sucked down into a blurry virtual hole and a Tjapukai narrator appeared on a fiery graphic of the continent. "This is our land…" he started, and went on to explain how his people had been there centuries before Australia was "discovered" – looking after the land while the land looked after them. 
It kind of broke my heart, and throughout the day I kept returning to the feeling that they have never been able to recover as a people. I think their hearts may be permanently broken. It's one thing to realize rationally that native cultures were squashed during colonization, but another to be having face to face conversations with people whose ancestors were treated like garbage.
It felt heavy and sad and shitty as a white person with no clue. 
There has been a reconciliation foundation in place since the early 90s to work towards mutual respect between individuals from the indigenous cultures and the "others", but the actual plan was launched about 12 years ago. It was described on the wall here and the aim is to focus on honesty regarding the historical facts and increased respect.
Certainly, thinking simplistically I can't imagine how you make actual reparations short of giving all the land back and leaving. Most historical sites we have visited and even websites for attractions have an acknowledgement that wherever you are about to go or whatever you are about to see, is on land which belongs to the "insert name" tribe. Cool. I assume the whole thing will always sting no matter what. Anyways, we met lovely welcoming people, Cameron made a special bond with one women, Gawe, in particular and I hope Zach and Quinn learned something about this part of history. I make them write in travel journals once in a while, but violent European conquests don't usually feature…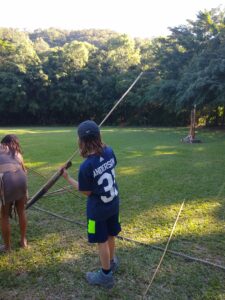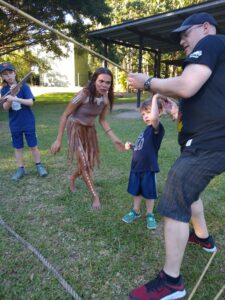 We were ready to pack up and head to the big city of Sydney on Tuesday. We hadn't stayed anywhere this long since Queenstown and were excited to settle in for seven full nights in the Rocks district which is where Sydney began. It is definitely old because, ya know, everything is made of rock. The place we are staying in is spacious so we can get away from each other at least a little bit and it is super old but super redone, in a quirky way.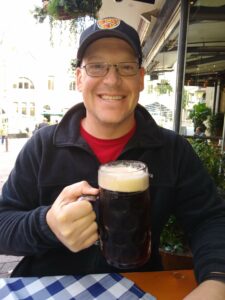 We had to go and check out the Sydney Opera House, even though we don't like opera. Did the tour, check check. Cam bailed out of the headphones experience early and even James summed it up appropriately by saying "I am a 44 year old man and even I found that a little dry". There was some drama with the original architect and it took a surprising number of years to complete, but aside from that I would just say look at the thing from many different angles. It is amazing as buildings go.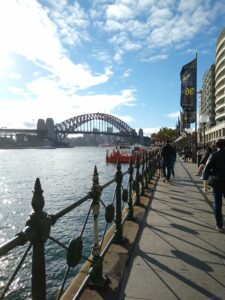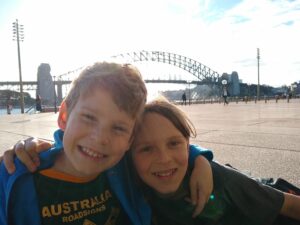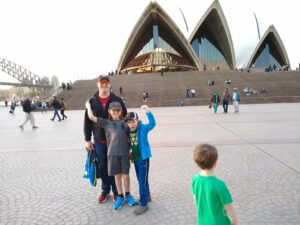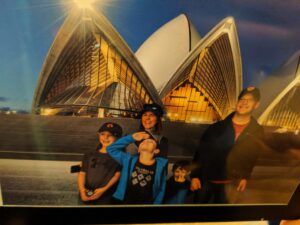 The next day we rode public transit out to the famous Bondi Beach. I have been loving the buses and trains here; it just feels so easy to use. Most things run every 3 – 6 minutes and the app tells me exactly where to walk to get it, when to ring the bell to get off. Totally dummy proof.
We did a gorgeous walk from Bondi to Bronte Beach. James and I loved the views and I will again say a lot without saying a lot. Too much parenting required. Would have been better without the offspring.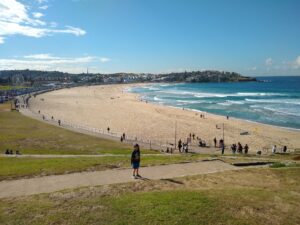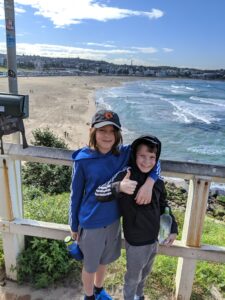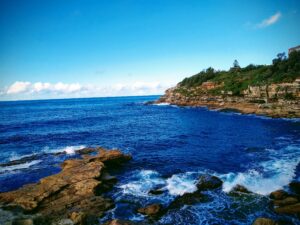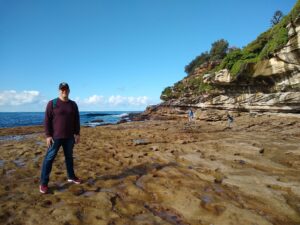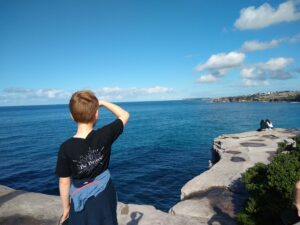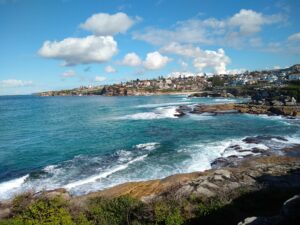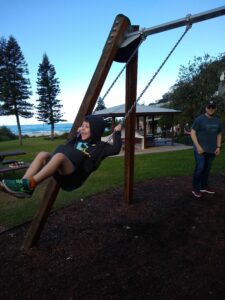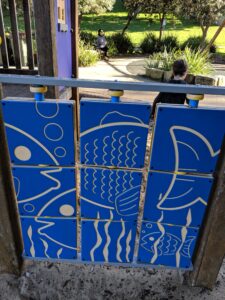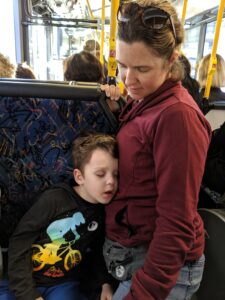 So far, I am shocked to say, I am enjoying this city of 4.5 million people. It is very pretty. It seems like they have put a lot of effort into making it pretty and leaving space in just the right spaces so there remains enough prettiness and unless you want to be in the middle of the high rises, they aren't where all the pretty things are that you want to see in Sydney.
Five more days of doing something outside of real life! (Sniff sniff) And then it's home sweet home…
(The internet service here seems as old as the house so it's challenging to post anything. I will hopefully finish this when I get home!!!)