Why do people go to Cairns? Top of the list has to be the Great Barrier Reef. This is the major jumping off spot to head out there and we had it on our tip top shortlist of WOW things to do in Australia. We had five full days planned in Cairns and once we had booked a reef experience for the second day, we wisely (with some retrospective insight now) chose to not do much the day before or after.
So… we DID it. We got to snorkel on the Great Barrier Reef.
I have ZERO photos of anything to do with that day because we just could not take any. There were too many other things needing more energy than we had! It was an amazing day and for me personally I have less of a vivid memory in my mind of the reef itself and more of a pride that James and I pulled that off with the kids. Ha! Seriously, never did I feel as old as 43 might be than the day after accomplishing snorkeling on the Great Barrier Reef with our family of five.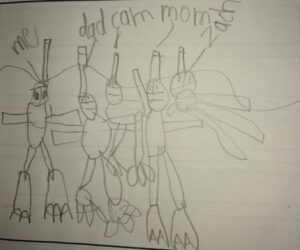 Getting out there was an hour and half boat ride through some choppy waters. Quinn and I spent most of it on the bottom back deck with the rest of the pukers, hoping, praying and deep breathing not to join them. Sitting amongst them was not always the most helpful in reaching this goal as everyone heaved around us, yet we persisted. Zachary and James didn't feel fantastic either, but we all managed to hold our breakfast.
The bobbing and weaving of the ship continued when we docked at what they call "Marine World" and I was unsure how we would even suffer through the five hours there let alone enjoy them, but once we actually got on the pontoon for gear, everyone started to feel better.
After fitting all of us with wetsuits, lifejackets, flippers and snorkels we took another… 20 minutes? to get everyone in the water after overcoming all the nerves, overzealousness, discomfort, general negativity and experimentation in various Fishers. We were in the middle of the ocean and the waters were still choppy with a bit of a current so keeping track of where Zachary and Quinn were (but mostly Quinn) was stressful and TIRING while one of James or I also kept Cameron primarily upright in our arms. But all three boys were excited to look around, caught on to the snorkels quickly, and made our hearts swell by popping up to invite us to each view they found. And Cameron was a rock star! He rarely wanted to float solo, but a three year old in waves? He was constantly insistent about getting back in the water after taking a short break on the platform and never once got saltwater in his snorkel.
We spent about an hour and half snorkeling before a windy buffet lunch and probably another hour back in the water after. When I looked around at us I still couldn't believe we were all snorkeling on the Great Barrier Reef! What the hell?!
Luckily we were all so exhausted on the ride back that four us either slept or dozed the entire trip, which kept the nausea at bay. Zachary stayed conscious and took in a presentation about a specific seastar that destroys the reef instead.
After crashing HARD that night, the adults woke up wrecked. I still felt like I was on a boat (ie. not good) til mid-afternoon. I am so glad we did it and so glad it is done 😉
Around that big old deal:
An "esplanade" seems to be a thing in the cities here and we spent a bit of time in our days off on the one here in Cairns. The coast does not have a nice beach (I am not sure if it's always been that way, but it's kind of muddy, not real attractive, and apparently houses some crocodiles) so the boardwalk has been nicely developed into a park, market, and play area. They even have a gorgeous public pool right beside the ocean!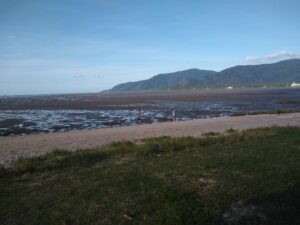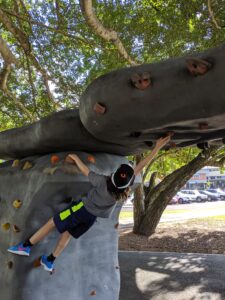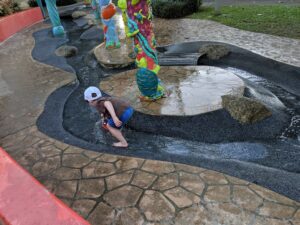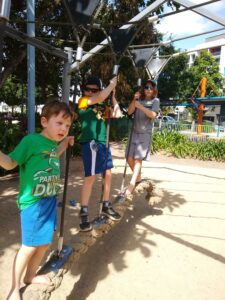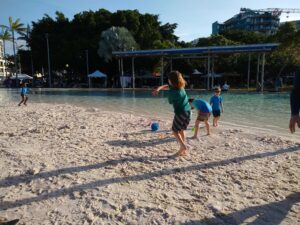 On Sunday we took a slow train ride west through a rainforest to a small village called Kuranda. Across from us in the bench seats was a friendly young couple, along with his mother, all from Sydney. We got some tips on our upcoming time in the big city and enjoyed chatting back and forth about our cultures, sports, and current events.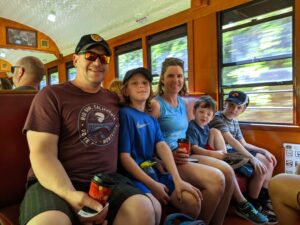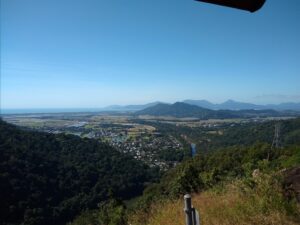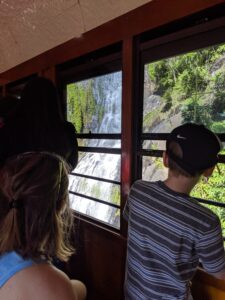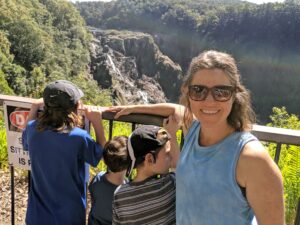 After a lovely lunch and bit of trail walking we took the 7.5 km cableway ride back (basically a gondola that's not so much up as across) over the bush. There were a couple of stops to learn about the native plants and animals and we were back in our place by 3:30 to relax.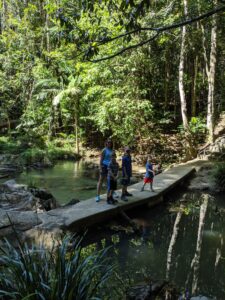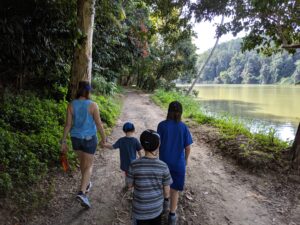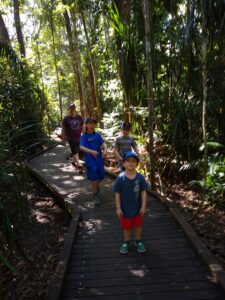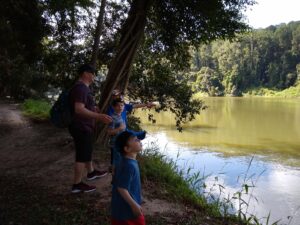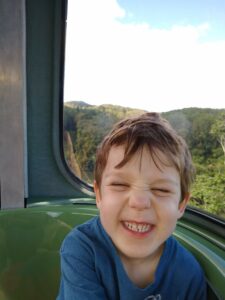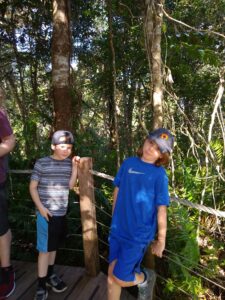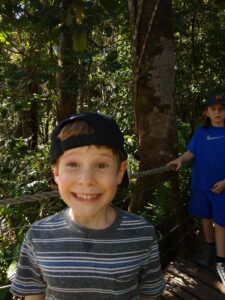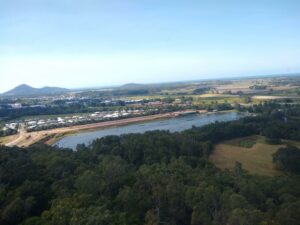 For our final Cairns day, I have booked some time at a local Aboriginal cultural center and then we are packing up for our last destination!