(The Fisher New Year's Newsflash that is…)
I truly appreciate receiving all these lovely photo collages from our families and friends during the holidays. It's the only time of year, besides a stray birthday card willy nilly, when we receive positive mail. This year, I am noticing another trend – about half of these photo cards have a mini-version of the traditional holiday letter. 
That obviously didn't happen this year, but I have goals for 2019! For now, I'll just practice here. C'est la vie and I give you, our 2018: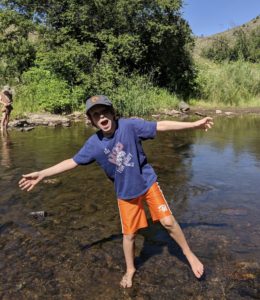 Zachary (9 1/2 years old) has become obsessed with all things Ninja Warrior and NFL this year. He has surpassed his mother in terms of speed and strength, but I am still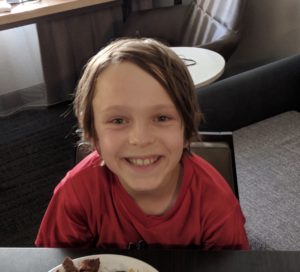 smarter than him, at least in some ways. He probably thinks I'm wrong about that. He absolutely refuses to cut his hair, can out-talk all of us, and is a fantastic older brother, especially to the littlest. We are super proud of his attitude at school where he tries his hardest, loves to learn, and notices the kids who need a little extra compassion.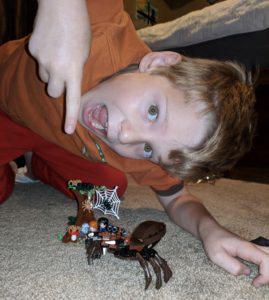 Quinn (7 years old) has re-started tae kwon do late this year and already achieved the second (yellow) belt. He is dialed in in this class. Look out world. He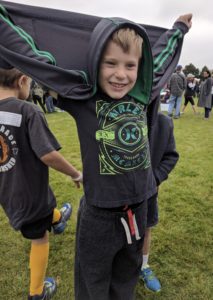 excels at Math, coming up with something to say or write that walks the line of propriety, and making me laugh. Lego is still tippy top on his list of things to do and he is maturing into a ridiculously fun playmate for his younger brother. And he gives in when I beg him to get a hair cut.
Cameron (3 years old) has fine tuned his favorite hobby: tantrum screaming when a parent buckles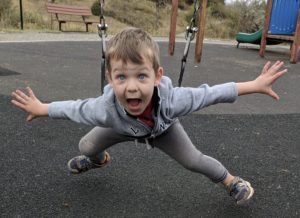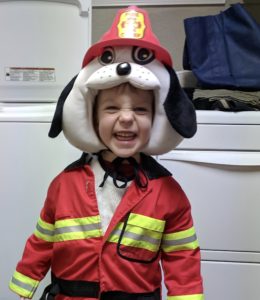 a seatbelt he needed to buckle, wipes a booger he wanted, or say… stands up in music class when he clearly could "help" them up. He gives great hugs, has become a safe swimmer! (or floater) and can sing the theme to Paw Patrol backwards and forwards. We are relieved to be taking him for a consultation with a sleep specialist in the New Year and that's all I'll say about that. He is blessed to have two older brothers to keep him entertained (and educated?) and loves to get his haircut. Doesn't he look consistently charming in these two pictures?
James and I are chugging along. We've got this! (most days) James' work continues to have him traveling, but not always every week which has made a humongous difference to our family life and stress levels. We are very lucky to have had several weekends and even a five day-er away and sans kids this year thanks to James' Dad Leon and his wife Sophie who prefer we leave when they come to Colorado so they can spend time with the boys.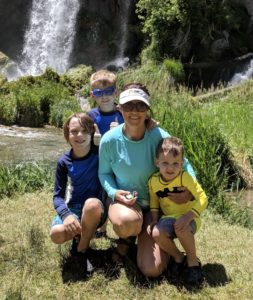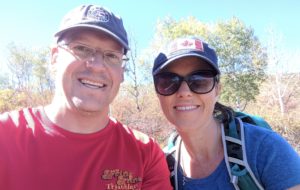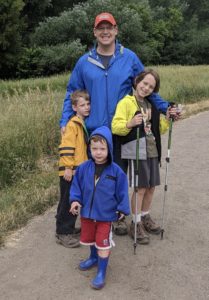 I started tae kwon do with Quinn, got to read in the Listen to Your Mother show in Boulder again in the Spring and now that Cam is spending a few hours at a babysitter each week can volunteer at the kids' school and get a few things done without a sidekick. 
James loves skiing with the "big boys", cooking (yay!), making new cocktails and looking after all four of us.
Although we lost our Jack in the Spring, Reilly (at 12.5) is still kicking it Reilly-style (ie. slow and relaxed with lots of licking).
2019 will bring a big first, and possibly a big "only" for our family: a two month trip. James' work is making a hiatus possible and we will pull the kids from school and head to New Zealand at the beginning of May and return from Australia by the 4th of July. It will be an experience!! I hope to remember to chronicle the highs and lows and everything in between a little here.
I hope 2019 brings some peace, some typical chaos, and a lot of growth for us and everyone we love out there!
XO Carla, James, Zachary, Quinn, and Cameron